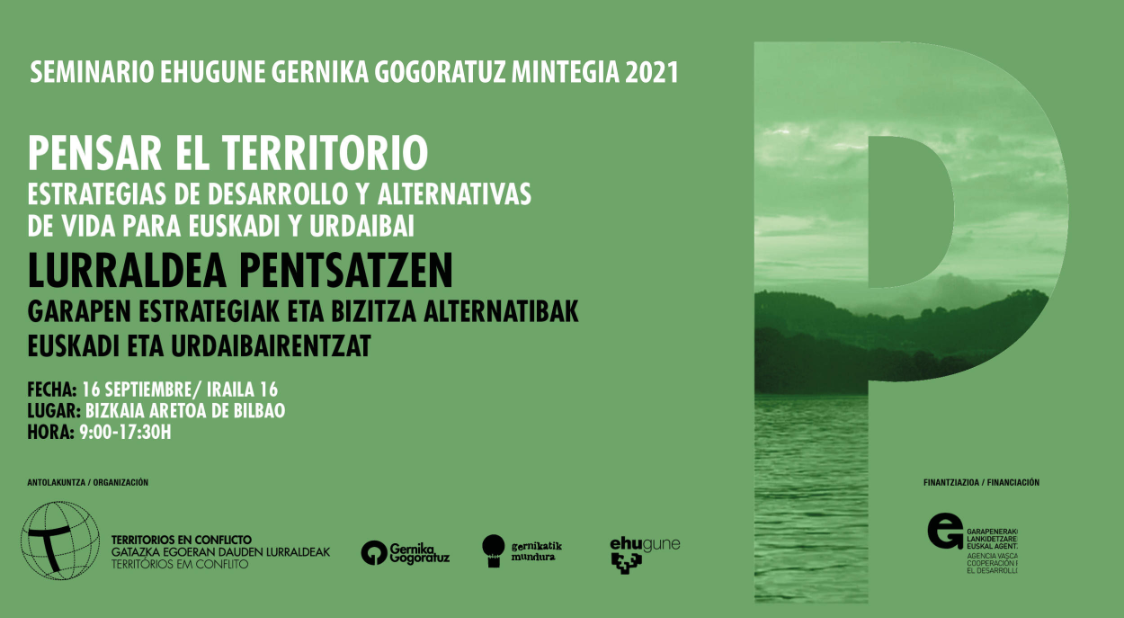 EHUGUNE AND GERNIKA GOGORATUZ SEMINAR 2021 "THINKING THE TERRITORY".
The seminar EHUGUNE Gernika Gogoratuz 2021 presents "Thinking the territory. Development strategies and life alternatives for the Basque Country and Urdaibai" to be held on 16 September at the Bizkaia Aretoa in Bilbao.
The programme will open with a section dedicated to Euskadi from a social perspective with the intervention of Juan José Ibarretxe, former Basque Country President and president of the Agirre Lehendakaria Center, Arantza Fernandez de Garayalde from the Basque Public School Platform (BEEPA) and Carlos Askunze from REAS Euskadi-Network of Alternative and Solidarity Economy.
After the break, it will be time to look into Urdaibai from an economic point of view with the participation of Roberto Bermejo, Professor of Sustainable Economy UPV/EHU, Miren Oinaindia, Professor of Ecology at UPV/EHU and Ramón Zallo, Professor at UPV/EHU who will present the work "El Declive Económico de Busturialdea-Urdaibai" published by the Gernika Network.
The afternoon will be dedicated to culture, coexistence and diversity by Luisa Etxenike, writer, Imanol Zubero, sociologist and lecturer at the UPV/EHU and Eneko Calle, from the Social Forum.
Seating is limited and prior registration is required.