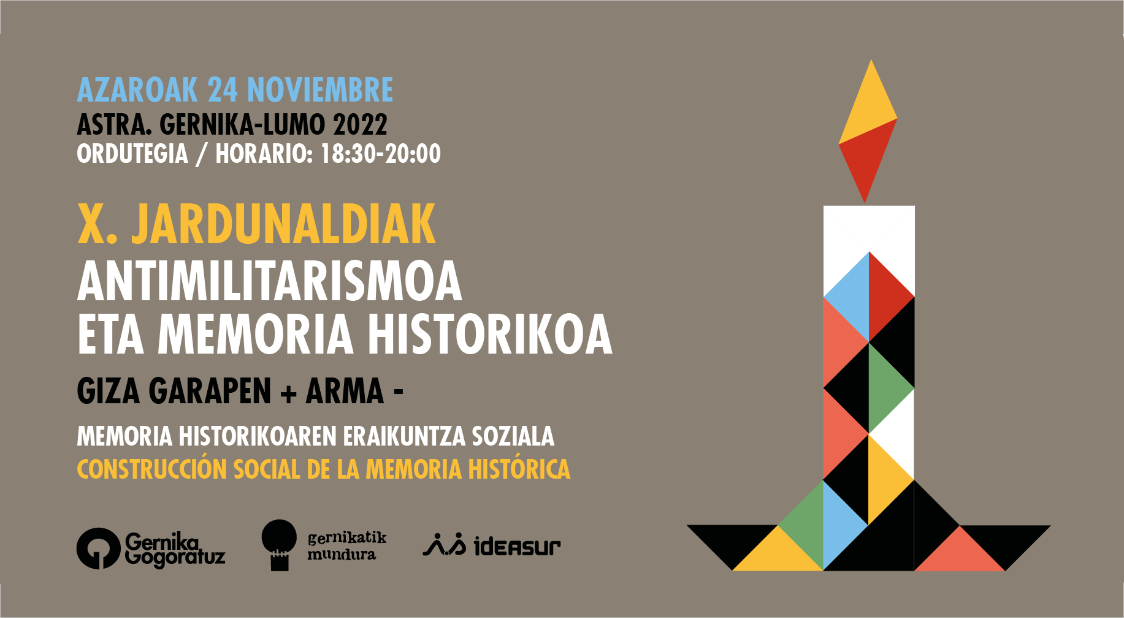 GERNIKA GOGORATUZ PRESENTS THE 10TH GERNIKA ANTI-MILITARIST AND HISTORICAL MEMORY CONFERENCE
SOCIAL CONSTRUCTION OF HISTORICAL MEMORY
The 10th Anti-militarist and Historical Memory Conference in Gernika will focus on local initiatives for the recovery of historical memory in the Urdaibai region and will present two local investigations that culminated in the subsequent tributes carried out in Gernika-Lumo and Busturia.
– The military hospital for prisoners of war in Gernika (1938-1940) In memoriam of 269 prisoners. Amagoia López de Larruzea and Iñaki Uribarrena, Pipergorri, cultural association.
– Stolperstein in Busturia in memory of Ángel Lekuona, deported to the Nazi concentration camp of Hraistko (Czech Republic).
Presentation: Sara Nicholson (Gernikatik Mundura)
Entrevista con Amagoia Lopez de Larruzea Zarate e Iñaki Uribarrena Ibarguengoitia, miembros de Gernikako Pipergorri Elkartea en Oizmendi Telebista.