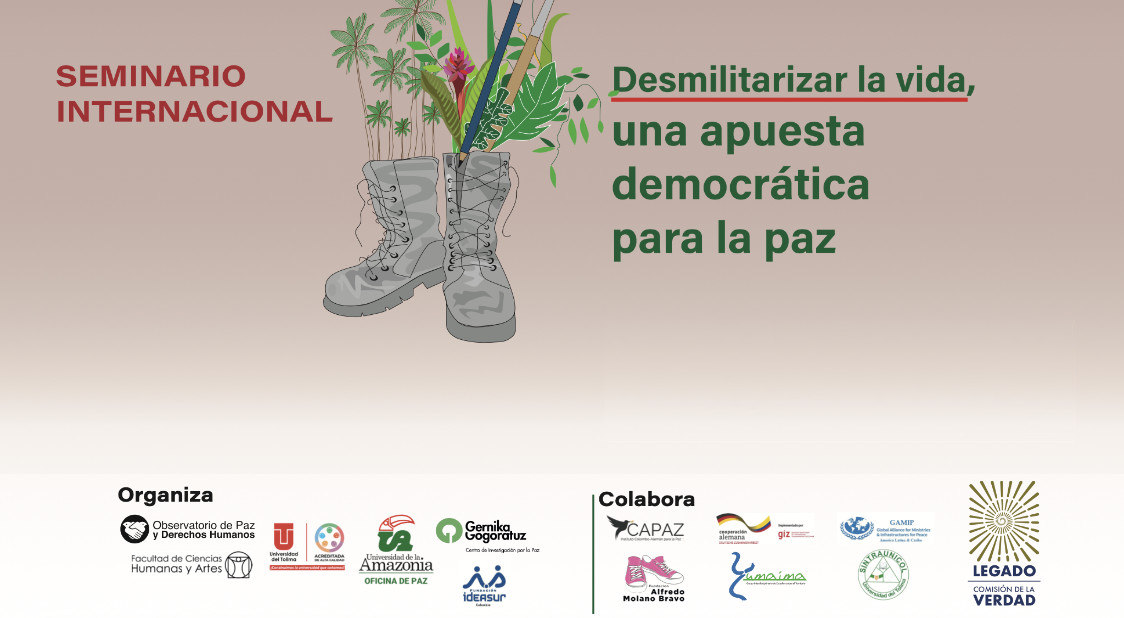 GERNIKA GOGORATUZ WILL PARTICIPATE IN THE INTERNATIONAL SEMINAR "DEMILITARISING LIFE".
Jokin Alberdi and Fernando Cruz, president and collaborator of Gernika Gogoratuz, will participate in the international seminar "demilitarising life, a democratic commitment to peace" to be held on 27 and 28 February at the University of Tolima Ibagué-Tolima.
The event will be held within the framework of the Alfredo Molano Bravo Chair for Voices and Truths from Deep Colombia (CAMB) and is organised by the Peace and Human Rights Observatory, the Faculty of Human Sciences and Arts, the University of Tolima, the University of the Amazon, Gernika Gogoratuz and Ideasur.
Jokin Alberdi is also a lecturer at the UPV/EHU, and will take part in the discussion on the 27th with the theme "Territories in conflict and the economy of war" and on the 28th with "Democracy and the economy of peace in territories in conflict". For his part, Fernando Cruz will deal with "Militarisation of territorial life, standardising diversity" and on the 28th with "Demilitarisation of life, a commitment to territorial peace".
The aim of the event is to reflect on the cultural, social, economic and political impacts of the militarisation of life in the territories in conflict and on what we can do as a society in this field to contribute to transcend the armed conflict towards democratisation and peace in Colombia, bearing in mind the legacy of the Truth Commission.
The framework of the Seminar, in Ibagué and Florencia respectively, will be based on the contents and methodology of the CAMB, a space created by the Truth Commission, whose objective is to disseminate the Legacy that it delivered to the country, especially in the chapter on Findings and Recommendations, and the Legacy of the writer and sociologist Alfredo Molano Bravo, in order to socialise them and make them appropriate for society.