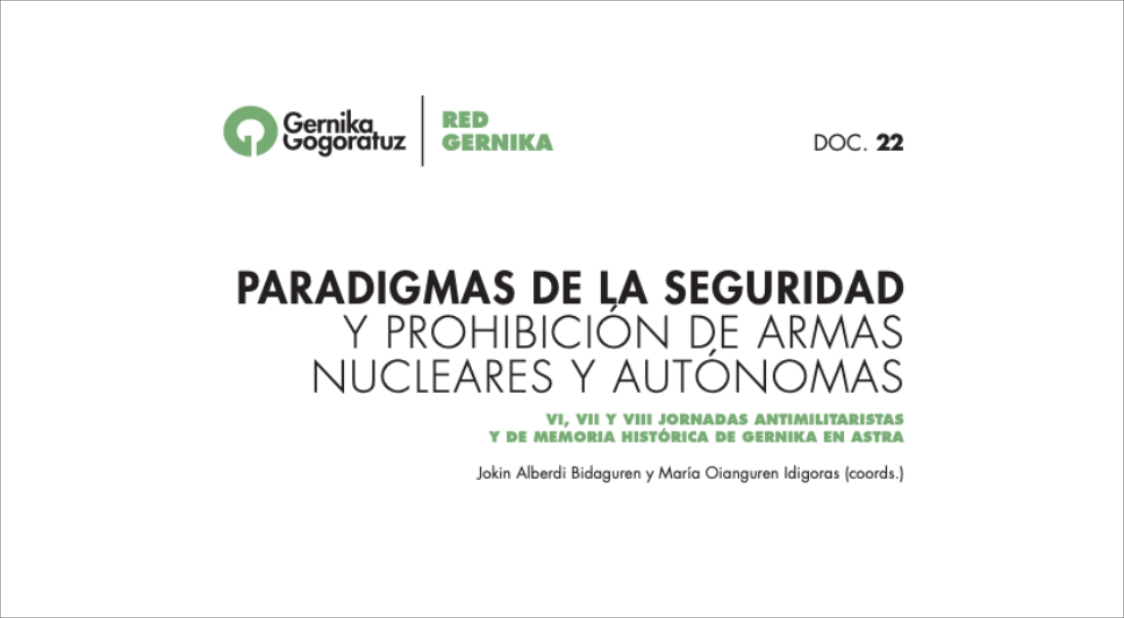 SECURITY PARADIGMS AND THE BAN ON NUCLEAR AND AUTONOMOUS WEAPONS
We present document no. 22 of the Red Gernika collection with content from the Gernika Antimilitarist and Historical Memory Conference held in 2018, 2019 and 2020.
The Gernika Antimilitarist and Historical Memory Conference at Astra opens a space for reflection for the analysis and debate of the peace agenda in the 21st century from a local and global perspective. Peace and conflict studies, critical development cooperation studies and interculturality are the themes that guide the activity of the convening associations.
This publication brings together some of the papers, infographics and links to audiovisual materials that were presented during the 2018 and 2019 editions at Astra, and during the 2020 edition held telematically.
Foreword by Jokin Alberdi Bidaguren and María Oianguren Idigoras.
Paradigms of security in the framework of the 70th anniversary of the declaration of human rights.
6th Gernika Antimilitarist and Historical Memory Conference in Astra (2018).
Truth, demilitarisation and the construction of memory and peace.
VII Antimilitarist and Historical Memory Days of Gernika in Astra (2019)
Towards a ban on autonomous weapons: is a world without war possible?
8th Gernika Antimilitarist and Historical Memory Conference in Astra (on line, 2020)