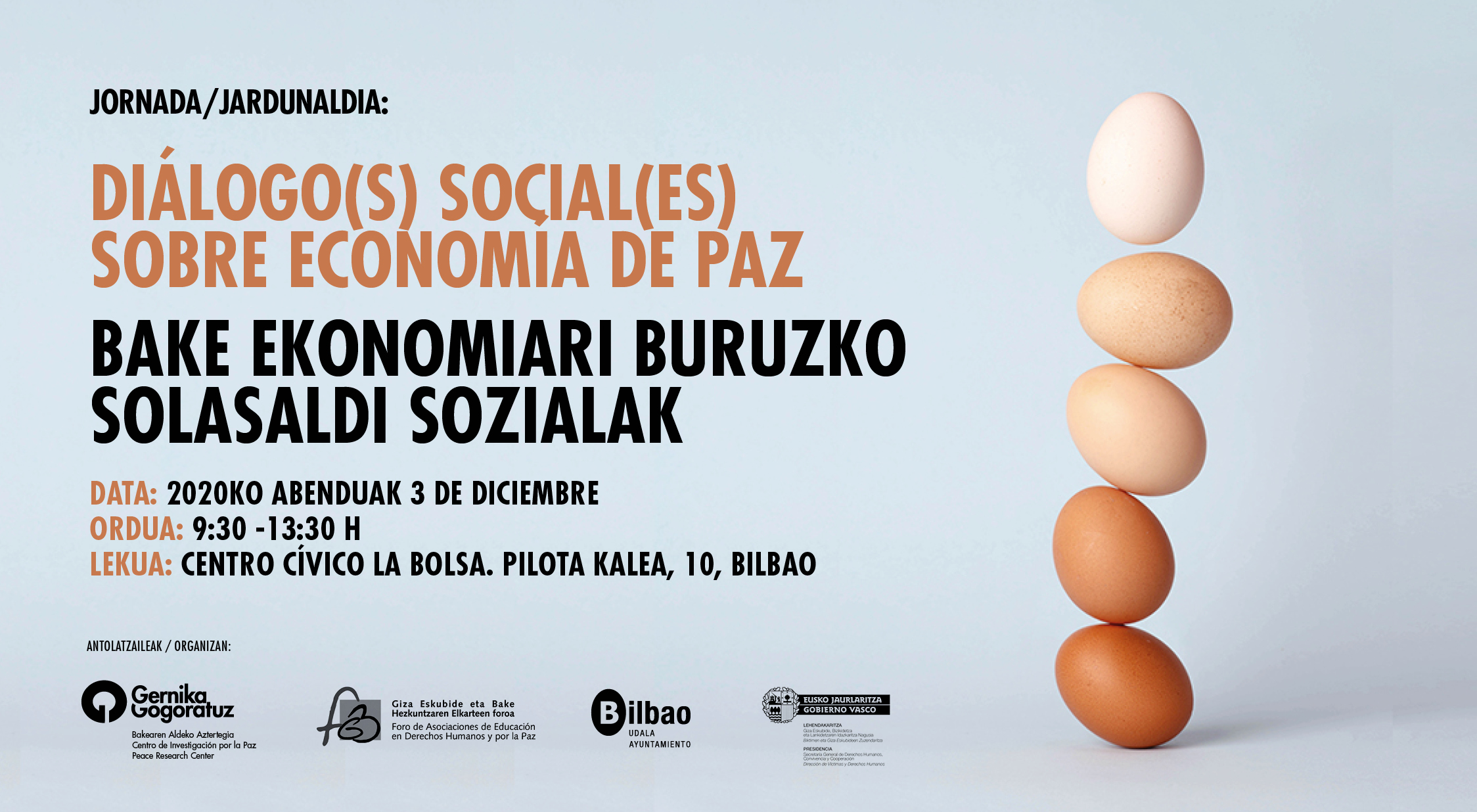 SOCIAL DIALOGUE(S) ON PEACE ECONOMICS
Date: Thursday 3 December 2020
Time: 9:30 – 13:30h
Place: Civic Centre La Bolsa. Pilota Kalea, 10, Bilbao
Language: Spanish and Basque
At a time when the functioning of the globalised economy keeps a considerable part of the population out of the normal market circuits, we want to explore and reflect, through dialogue between different actors and sectors, on real and effective alternatives for an economic-productive development that puts people at the centre. This rights-based approach is even more important at a time of crisis such as the present, when a series of decisions will mean that a considerable part of the population may or may not be able to improve their quality of life. This could mean progress or setbacks in terms of access to and fulfilment of human rights.
The multi-stakeholder dialogue space planned for this session will explore in greater depth the questions and concerns raised in the horizontal dialogues of the previous day. It will do so in different ways and using innovative methods of multi-stakeholder dialogue.
In this line, the proposal on PEACE ECONOMY(ies) that we present here is proposed as a space that will feed the research and lines of action of the member organisations of the Forum of Human Rights and Peace Education Associations.
Facilitator in the Memorialab Programme "Spaces for the social construction of memory" promoted by Gernika Gogoratuz, Gernikako Bakearen Museoa and Bakeola. Facilitator of spaces for dialogue, learning processes and organisational change. Diploma in Local Management for Integral Development (NUR University, Bolivia) and Masters in Participation, Power and Social Change (Institute of Development Studies, University of Sussex, UK). He was an advisor to the UNDP-Latin America Regional Democratic Dialogue Project.