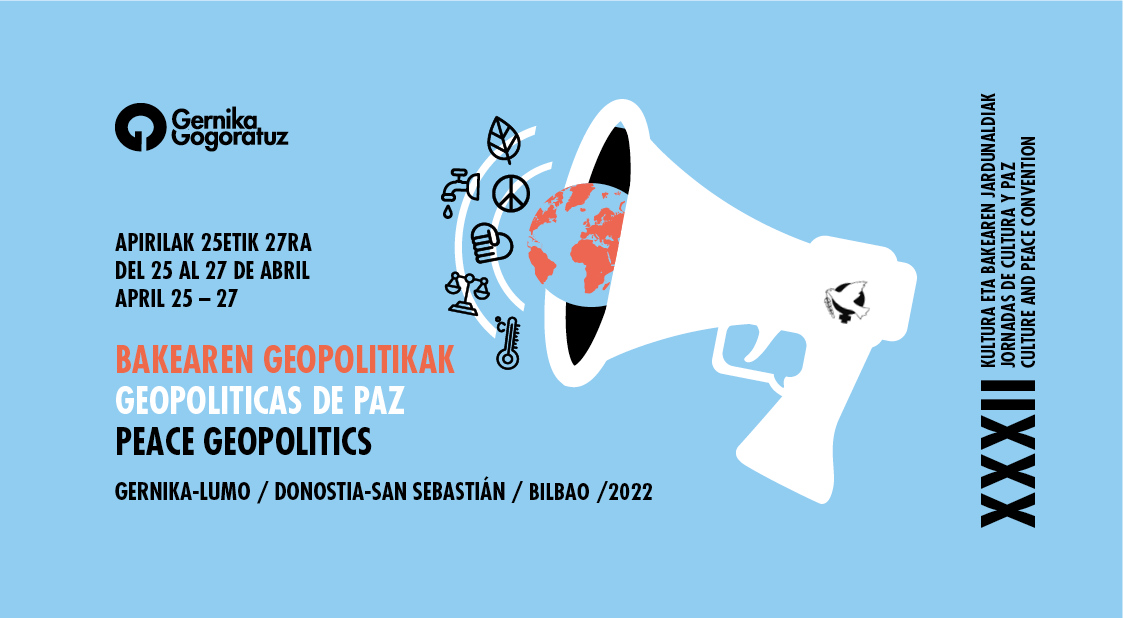 THE XXXII CULTURE AND PEACE CONFERENCE PROGRAMME IN GERNIKA-LUMO
We present the programme of the XXXII Culture and Peace Convention of  Gernika, "Geopolitics of Peace" to be held in Gernika-Lumo on 25 and 26 April.
Elai Alai Aretoa. Gernika-Lumo.
Exhibition "100 years of pacifist feminism" WILPF

16:00 – 16:30h. Opening with Laura Alonso, President of WILPF Spain.
Kulturetxea of Gernika-Lumo
Conference: Geopolitics of Peace
16:45-18:00h.
Opening
· Geopolitical change and the objective 16 "Peace, Justice and solid institutions" in the 2030 agenda, Manuela Mesa, director of CEIPAZ. Cultura de paz foundation, Vice President of WILPF Spain.
· Proposal for a disarmament and an economy to make peace, Tica Font, founder of the Centre d'Estudis per la Pau J.M. Delàs and member of the board of directors of WILPF Spain.
Hosted by María Oianguren, Director of Gernika Gogoratuz.
18:30 – 20:0h.
· Challenges of feminist pacifism against the Russian invasion of Ukraine, Camen Magallón. Honorary President of WILPF Spain.
· From Gernika to Sarajevo, Petra Kelly and a summit of feminists for peace. Heidi Meinzolt, International President of WILPF Europe.
· Integrated approach of security and peace construction, Joy Onyesoh. President of WILPF and WILPF Nigeria.
Hosted by Iratxe Momoitio, Director of Gernika Peace Museum.
The session in Gernika-Lumo will be semi-attendance and will be broadcast via YOUTUBE.
To attend in person, entrance is free until full capacity is reached. It is necessary to send the registration form.
Conmemorative acts of the 85th aniversary of the Bombing of Gernika
Lizeo Antzokia of Gernika-Lumo
"Peace and Reconciliation Gernika Awards" 2020 and 2022
12:00h.
Awards ceremony
· International Brigades for Peace.
· International project "Kids Guernica".
· WILPF Women's International League for Peace and Freedom.
· Caretakers of the Residencia Calzada in Gernika.
15:45h.
"4 minutu ekimena" Ringing of bells and ringing of siren.
16:30h.
Funeral prayer and floral tribute for the victims of the bombing of Gernika. Zallo cemetery.