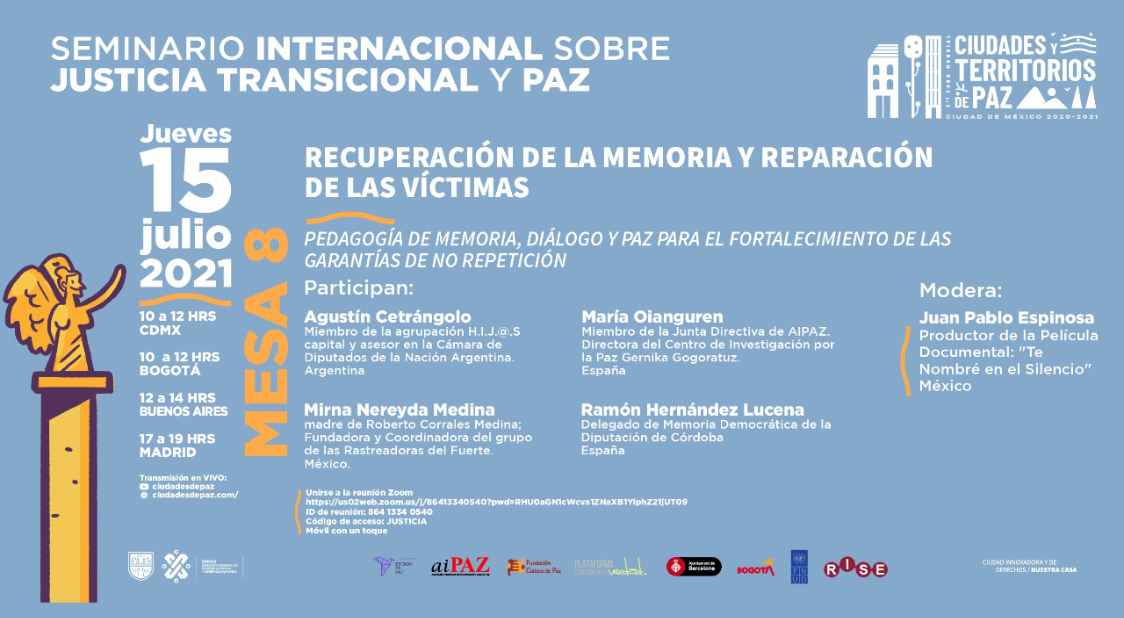 THIRD EDITION OF THE WORLD FORUM ON CITIES AND TERRITORIES OF PEACE. INTERNATIONAL SEMINAR ON TRANSITIONAL JUSTICE AND PEACE
On 15 July, the round table "Pedagogy of memory, dialogue and peace to strengthen guarantees of non-repetition" was held at the International Seminar on Transitional Justice and Peace, with the participation of María Oianguren, director of the Gernika Gogoratuz Peace Research Centre and member of the Board of Directors of the Spanish Peace Research Association (AIPAZ).
The event is part of the third edition of the World Forum on Cities and Territories of Peace, Mexico City 2020-2021, organised by the Government of Mexico City, accompanied by an International Organising Committee (IOC) with the participation of different bodies (international, regional, national and local organisations).
The aim is to contribute to the meeting between victims whose human rights have been violated, local leaders, international organisations and networks, academia, civil society organisations, activists and citizens in order to generate a reflective, analytical and interdisciplinary process on transitional justice and peacebuilding.
This third edition considers the positive conception of peace, understood not only as the absence of armed conflict, but also as the presence of social justice, sustainable development, the democratic exercise of citizenship, the fulfilment of human rights within and between states and, consequently, as opposed to any kind of violence. In this sense, ESCR (Economic, Social, Cultural and Environmental Rights) are considered as conceptual pillars of the Forum, worked on from an approach to the Right to the City.