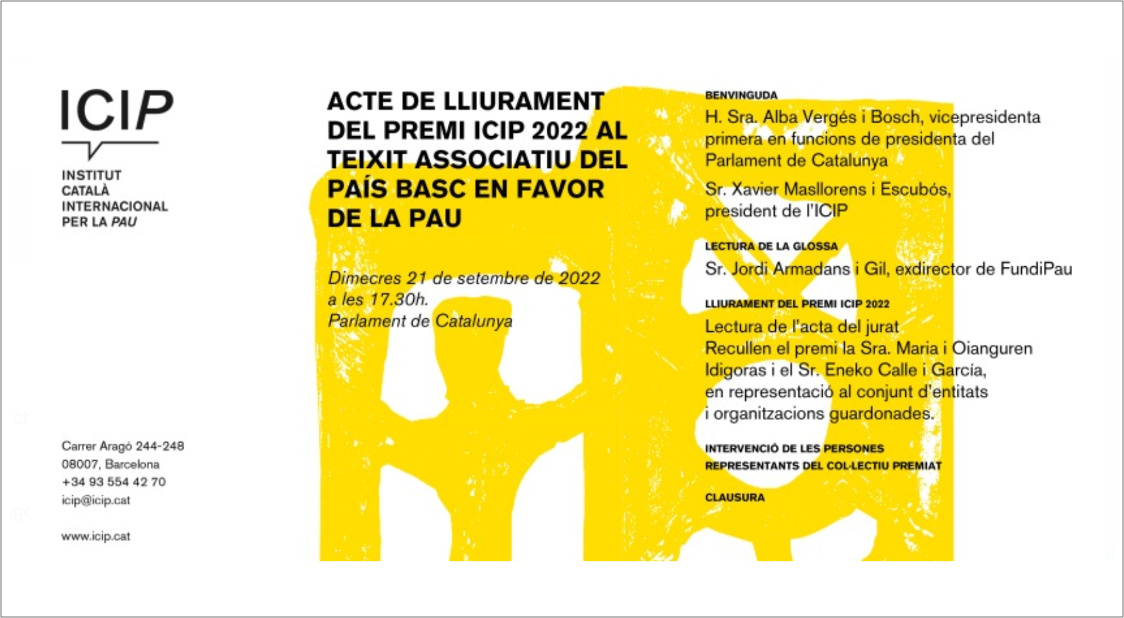 A DELEGATION FROM BASQUE CIVIL SOCIETY TRAVELS TO CATALONIA TO RECEIVE THE ICIP 2022 PEACEBUILDING AWARD
The ICIP (International Catalan Institute for Peace) will hold the award ceremony for the ICIP Peacebuilding 2022 Prize on Wednesday 21 September, the International Day of Peace, which will take place at the Parliament of Catalonia at 5.30pm.
This year, the award recognises a plural set of civil society initiatives in the Basque Country "for their contribution to the advancement of peace, the end of political violence and the creation of new frameworks for coexistence and reconciliation". These initiatives include numerous entities, collectives, NGDOs and a number of experiences, some now dissolved and others still in force. The ceremony will be attended by a Basque delegation of 17 people representing Gernika Gogoratuz, Foro Social Permanente (FSP), Elkarri/Lokarri, Gesto por la Paz, Baketik, Bakeola, Eskubidez. Foro de entidades de Educación en DDHH y por la Paz, Museo de la Paz de Gernika, Ahotsak, Emagune, Foro Ciudadano Donostia, encuentros ciudadanos, MemoriaLab and the Restorative Encounters.
With this amalgam of actors, the award aims to highlight the contribution of all of them in the creation of peace scenarios and the transformation of conflicts.
The ICIP 2022 Award ceremony will be presided over by the First Vice-President acting as President of the Parliament of Catalonia, Alba Vergés, and the President of ICIP, Xavier Masllorens. This year, the award-winning collectives will be presented by the former director of FundiPau, Jordi Armadans, the organisation that presented the winning candidacy.
Representing the delegation will be the director of Gernika Gogoratuz, Maria Oianguren, and the participant of the Permanent Social Forum, Eneko Calle – member of the association Peace with Dignity and the FSP.
The ceremony can also be followed live on Canal Parlament.