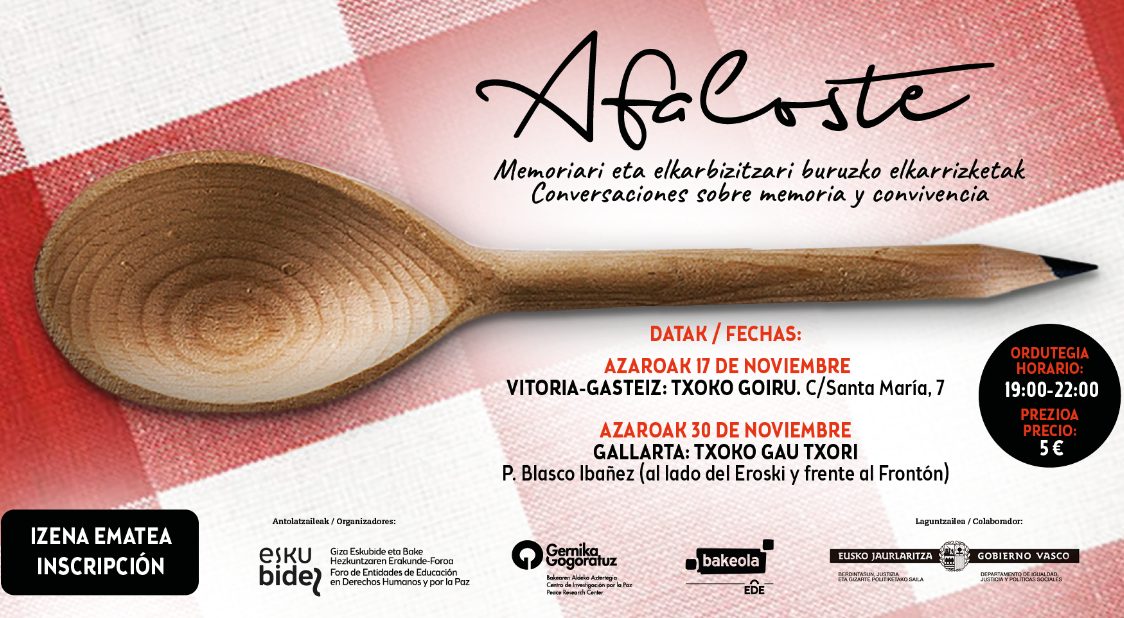 AFALOSTE. PIL-PIL COEXISTENCE. GASTRONOMIC-SOCIAL LABORATORY 2022
Uncategorized
14 November, 2022
What is Afaloste?
Afaloste is a gastronomic-social laboratory that aims to explore – through conversation and cooking – the impact that politically motivated violence has had on our daily lives and on the social fabric.
The Afaloste initiative is promoted by the Eskubidez Forum, made up of 25 organisations from the Basque Country. It is implemented by Bakeola-EDE and Gernika Gogoratuz, with the facilitation of Iñigo Retolaza.
Afaloste is also:
– A space for intergenerational, plural and diverse encounters.
– A time and space to reflect on the consequences of the past on our present and future lives.
Where? When?
November 17, 2022 Txoko Goiru(Gasteiz) Bilingual
22 November 2022, Sociedad Recreativa Gaste-Gogor (Eibar) Bilingual
30 November 2022, Txoko Gau Txori (Gallarta) Bilingual
Timetable
19:00-22:00
Who can participate?
20-25 people in each meeting* *We will try to maintain a balance of gender and generation (2/3 generations).
The only condition to participate is to be willing to share personal experiences and be open to other different points of view.
More information 
https://eskubidez.org/editorial/afaloste/
Eskubidez, Foro de Entidades de Educación en Derechos Humanos y por la Paz
Anna Leon
Tel.: 688 801 794
info@eskubidez.org
www.eskubidez.org