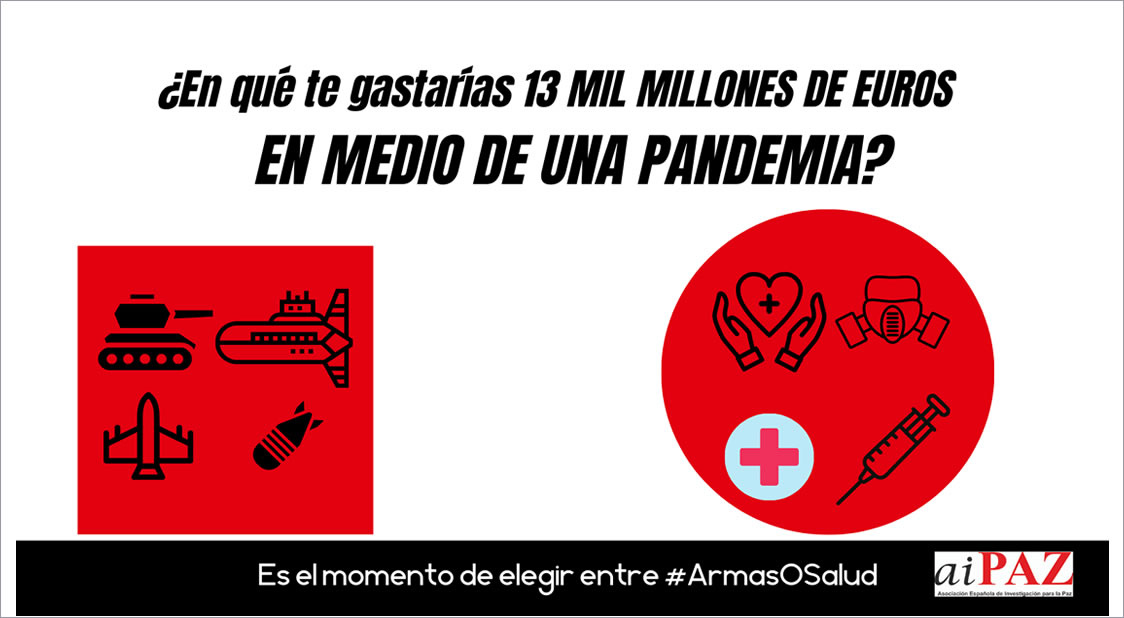 AIPAZ LAUNCHED THE CAMPAIGN #ARMASOSALUD – A MOVEMENT THAT STANDS FOR ECO-SOCIAL INVESTMENT
The Spanish association of Peace Research – Aipaz, together with other civil-social organizations has launched the campaign #ArmasOSalud. In context of the severe crisis that is caused by the Covid-19 pandemic this movement aims to redirect military expenses in support of an eco-social investment with gender perspective.
The communiqué points out that "from a holistic point of view on issues of security and defense and a strong commitment to the Sustainable Development Goals (SDGs) as well as to the 2030 Agenda, the strengthening of structures and mechanisms of social protection in Spain should be fully compatible (or even complementary) with a firm intent on the part of politics for development cooperation and resolution of conflict as well as those for the preservation and also the increase of levels of official development assistance."
Gernika Gogoratuz, part of the management board of Aipaz, joins this campaign.
The main points, as presented below, are:
Reducing deficiencies of the health system on a national, autonomous and local level.
Improving education on all levels.
Achieving the decentralization of social service closest to the general public.
Acknowledging the impacts of the pandemic from a gender viewpoint.
Immediate and permanent legalization without conditions of all migrants
Supporting local businesses and all those productive sectors that happen to be the most affected by the Covid-19 pandemic.
Strengthening the conversion of the national arms industry in favor of sectors of productive civil sectors of national and European interest.
Increasing human and economic resources for investigation and the effective implementation of national and international projects to accomplish the ecological transition.