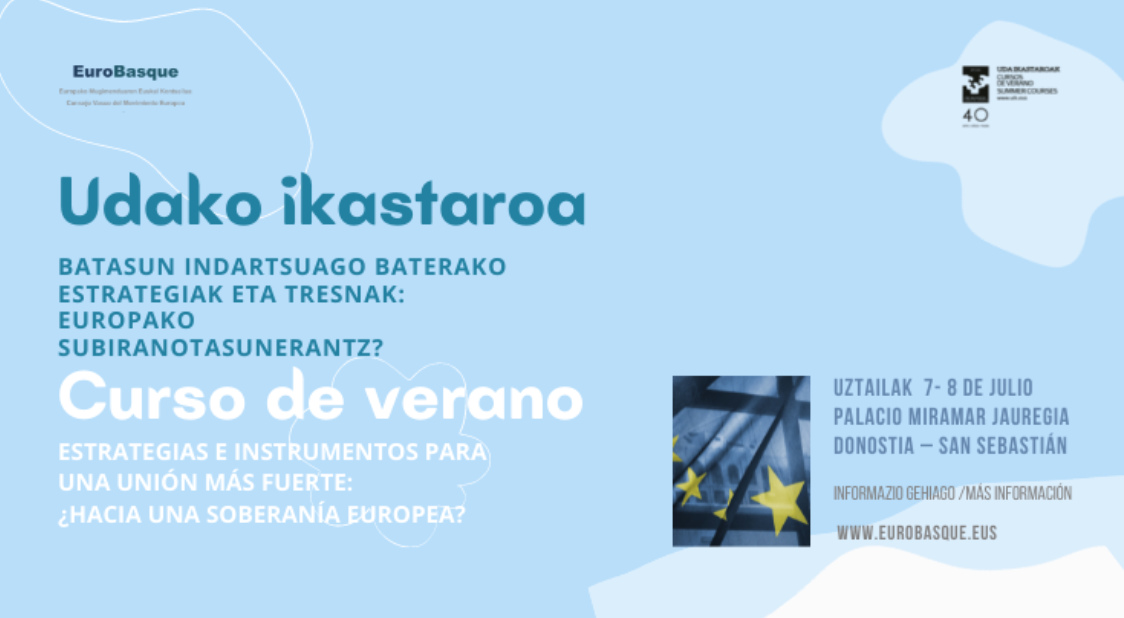 MARÍA OIANGUREN TO TAKE PART IN THE EUROBASQUE SUMMER COURSE 2022
María Oianguren Idigoras, director of Gernika Gogoratuz, will participate in the Summer Course 2022: Strategies and Instruments for a Stronger Union: Towards a European Sovereignty? as moderator of the round table with the authors of the book The Future of the European Union. Contributions to the Conference, Universitas 2021 Prize.
The course is organised by Eurobasque and will be held on 7 and 8 July at the Palacio Miramar in Donostia-San Sebastian. Its main objective is to promote reflection and the generation of ideas and proposals to address the multiple and far-reaching challenges currently facing the EU on both concepts:
What does the concept of European sovereignty mean? What is the scope of the concept of strategic autonomy? What does each – or both – contribute to the current EU debate? What concrete proposals can each of these concepts develop? In what concrete examples can the advantages and benefits of applying strategic autonomy be visualised? What Union policies will be implicated by this strategic framework? What impact will it have on the EU's dialogue with its external partners and on global governance? What does European sovereignty in energy, food, vaccines, etc. mean on the ground? How does European sovereignty fit with a federal future for Europe? Does European sovereignty take over from state sovereignty? How does it reconcile with the self-government of regions with legislative capacity, nationalities, etc. recognised by the various constitutions of the Member States?
The course will show the emergence and development of this concept, as well as the keys to understanding its meaning; but above all, the course aims to be practical and to show what European sovereignty means in different fields and policies.