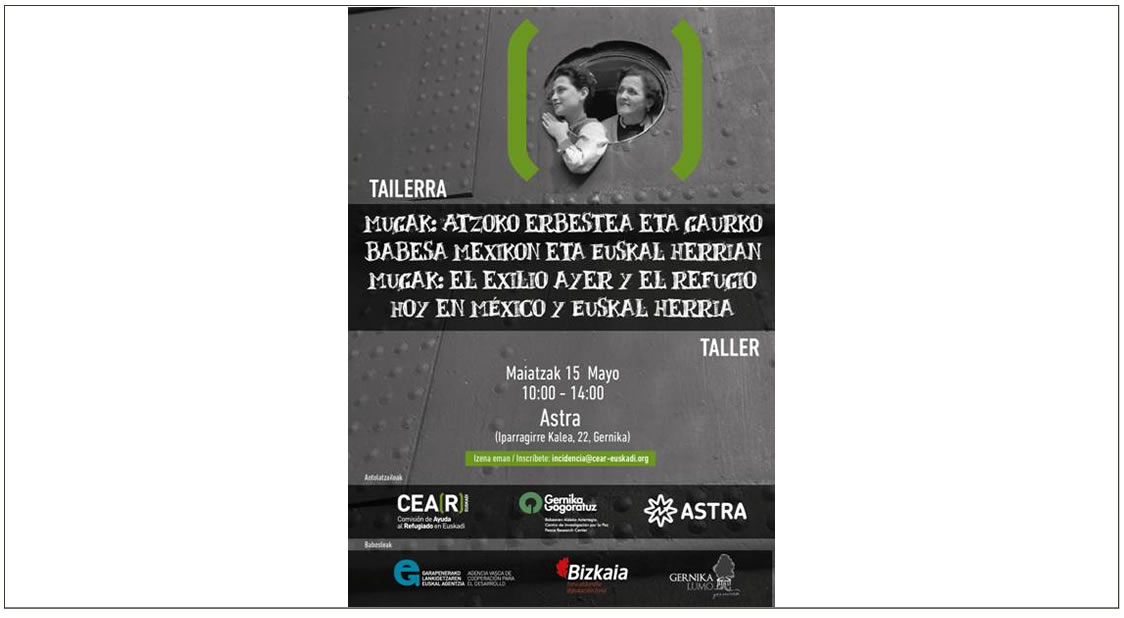 MUGAK: YESTERDAY'S EXILE AND TODAY'S REFUGE IN MEXICO AND EUSKAL HERRIA
On Saturday 15 May, CEAR-Euskadi and Gernika Gogoratuz are organising the workshop MUGAK: exile yesterday and refuge today in Mexico and the Basque Country.
The aim of this workshop is to establish a dialogue between two territories of transit and two historical moments from a feminist perspective. We will learn about the processes of exile during the war and the early years of Franco's regime, what reception conditions the exiles found in Iparralde and Mexico, and what they did to get ahead. We will also find out what the refugees fleeing from who are currently crossing these two territories, how border policies impact on their lives, and what reception they are finding in Euskal Herria.
The training will combine an exhibition part with a participative part in which, through the use of different materials (texts, photos, video), debate will be generated and the collective construction of proposals for a better reception of refugees today.
The workshop will be held at ASTRA (Iparragirre Kalea, 22, Gernika-Lumo) on Saturday 15 May, from 10:00 to 14:00.
If you want to register you can do so at: incidencia@cear-euskadi.org (indicate in the subject Gernika Workshop)