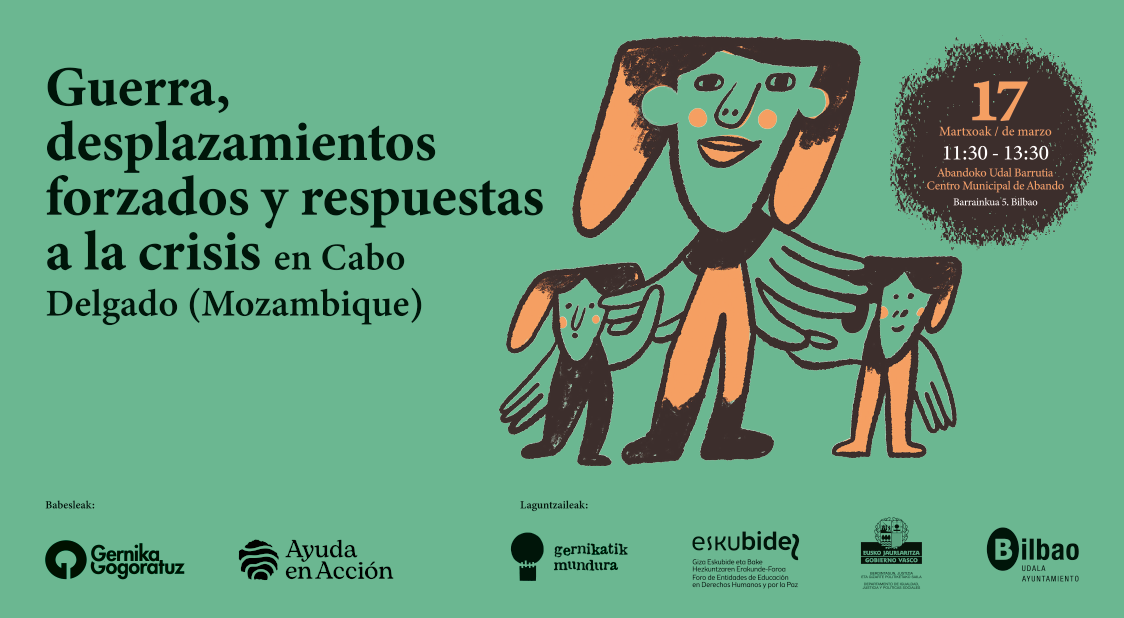 PRESENTATION OF THE REPORT "WAR, FORCED DISPLACEMENT AND CRISIS RESPONSES IN CAPE DELGADO, MOZAMBIQUE".
Gernika Gogoratuz and Ayuda en Acción invite you to the presentation of the report "War, forced displacement and responses to the crisis in Cabo Delgado (Mozambique)" to be held on 17 March from 11:30 to 13:30 at the Abando municipal centre in calle Barrainkua 5, Bilbao.
This report joins other research carried out by the three organisations in which the aim is to make a critical and constructive contribution to the analysis of the armed conflict and serve to make progress in improving the situation of the people affected. There is a need for a deeper understanding of the reality that requires the incorporation of approaches that reveal the inadequacies of current development, humanitarian and military operations and that promote the participation and strengthening of the agency of displaced communities. The study aims to deepen local knowledge and understanding of the context, capacities and strategies of actors and institutions, as well as the processes of forced internal displacement in Cabo Delgado.
The presentation will be given by Jesús Pérez Marty, director of Ayuda en Acción in Mozambique and coordinator of the report, Jokin Alberdi Bidaguren from the UPV/EHU and Liliana Zambrano Quintero from the University of Deusto and the Gernika Gogoratuz research team.
María Oianguren Idigoras, director of Gernika Gogoratuz, will present the round table.
Es necesario inscripción previa