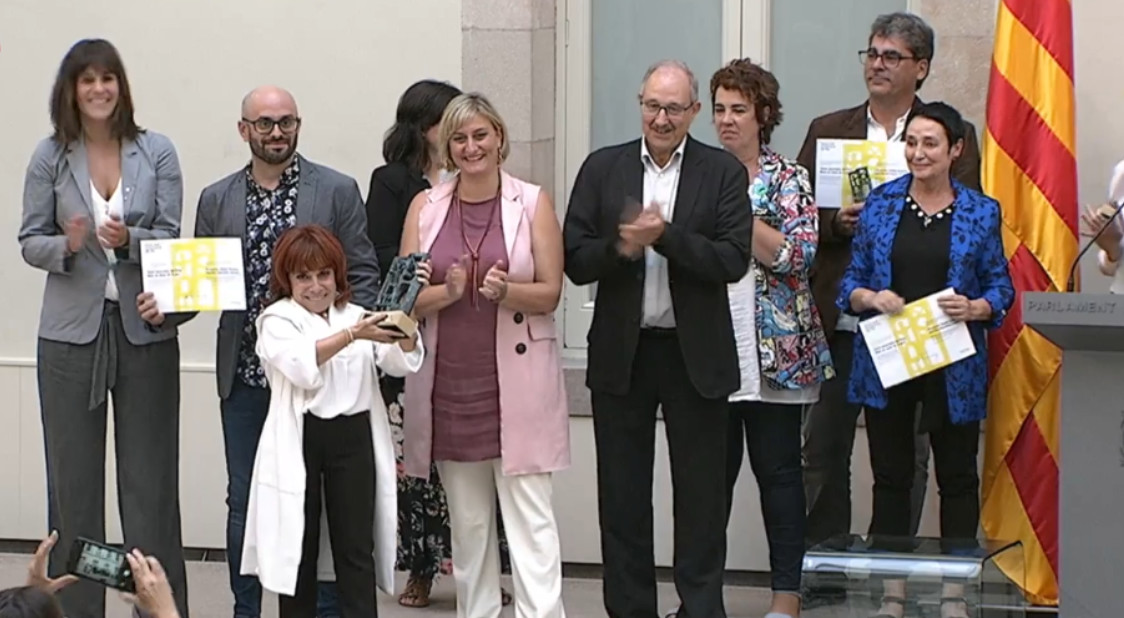 THE ASSOCIATIVE NETWORK OF THE BASQUE COUNTRY RECEIVES ICIP AWARD FOR ITS PEACEBUILDING EFFORTS
On this year's International Day of Peace, 21st September, the International Catalan Institute for Peace (ICIP) presented the ICIP Peacebuilding Award 2022 together with the Basque Country's associative network for peace in a ceremony at the Parliament of Catalonia. Present at the ceremony were representatives from 17 prize-winning organisations and initiatives.
María Oianguren, director of Gernika Gogoratuz Peace Research centre, and Eneko Calle, member of the Permanent Social Forum, received the award on behalf of civil society members who contributed to a "still unfinished" pacification process.
"Thanks to their contribution to the advancement of peace, the ending of political violence and the creation of new frameworks for reconciliation and peaceful coexistence", the award was jointly presented to all participating organisations. These included the now-dissolved Coordinadora Gesto por la Paz, Elkarri/ Lokarri and the still-active Permanent Social Forum, alongside many others who work towards peace education and the promotion of human rights, reconciliation and peaceful coexistence. These organisations come together in the Forum of Human Rights and Peace Education Associations, in which Gernika Gogoratuz, Baketik and Bakeola play a key role.
The award also acknowledges the work of the Gernika Peace Museum Foundation, Foro Ciudadano Donostia, UnescoEtxea, the Fernando Buesa Foundation, Emangune, the Ahotsak women's network, and Eskubidez, as well as victim-led dialogue facilitators such as Encuentros Ciudadanos-Memoria Lab, los Encuentros restaurativos entre presos y víctimas de ETA (restorative meetings between imprisoned ETA members and victims) and the BatzART! initiative.
The ceremony was chaired by Alba Vergés, the first Vice-President acting as Parliamentary President, and Xabier Masllorens, President of the ICIP.
The ICIP Peacebuilding Award 2022 acceptance speech by María Oianguren and Eneko Calle
You can download all the information about the ICIP Award 2022 here