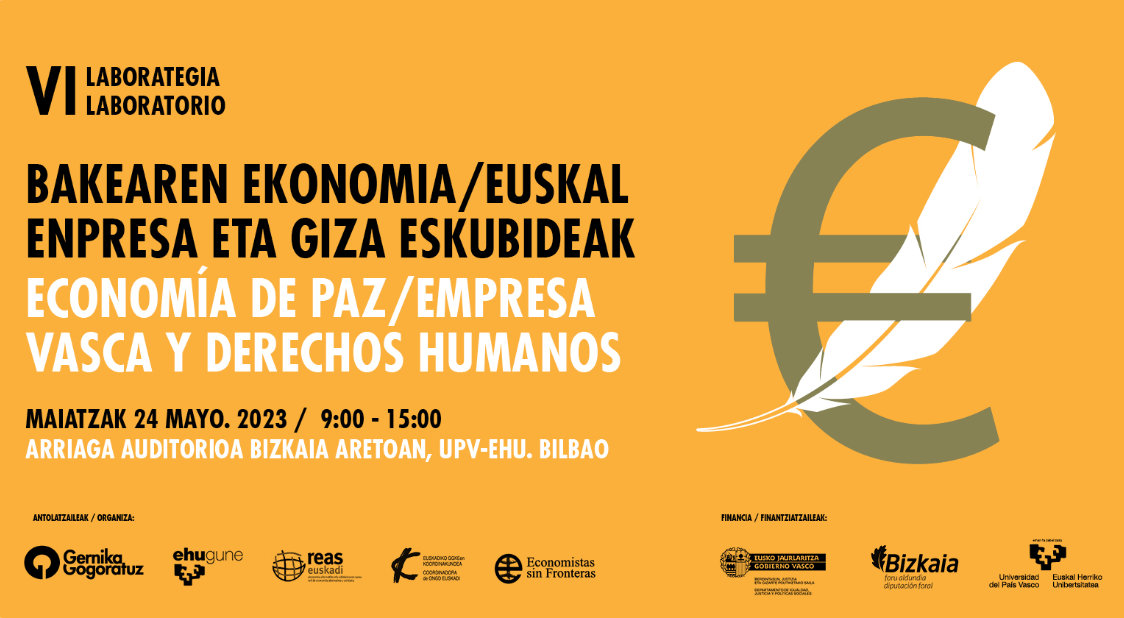 VI LABORATORY ON PEACE ECONOMY, HUMAN RIGHTS AND BASQUE COMPANIES
The 6th Laboratory on Peace Economy, Human Rights and Basque Companies will be held on 24 May, organised by Gernika Gogoratuz in collaboration with EhuGune, REAS Euskadi, Economists without Borders and the Coordinating Committee of NGOs of the Basque Country. The event will take place at the Bizkaia Aretoa and registration is compulsory.
This edition continues with the work carried out in previous years and the themes will be the challenges that our world presents in areas such as the peace economy in the digital era, business and human rights or neo-extractivism and institutional counterweights.
The programme will run from 9:00 to 15:00h and will include the participation of David Hoyos (Director of Ehugune UPV-EHU), María Oianguren (Director of Gernika Gogoratuz), Monika Hernando (Director of Human Rights, Victims and Diversity of the Basque Government), Euridice Cabañes (Co-Director of Arsgames), Alvaro Ramírez and Iker Atxa (Gernika Gogoratuz), Laura Ruiz (Economists without Borders) and Almudena Moreno (Coordinator of Local Sustainable Development of Alianza por la Solidaridad-ActionAid) among others.